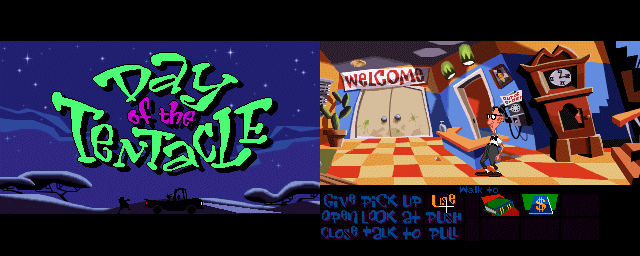 One of the greatest injustice of all time has been repaired !!
The so-awaited Amiga AGA version of DOTT is now available even for you guys with low configs (you may still need a bit of fastmem there, not tested on a plain 2mb chipram 1200).
This port is based on one of the first scummvm releases (because later ones are way too slow!), I just converted midi files and samples to modules and converted the sound engine to a mod player thanks to the public library ptreplay.
Sound rendering is far from perfect but how do you deal with 15-channels adlib music when amiga paula chip has 4-channels, you can't afford any cpu consumption and you don't have any musical ability of any kind ?!!. Still if someone wants to improve automated midi to mod conversion, he's more than welcome to share his work with all of us!! (original midi files are supplied in the package to let you do so...)
I was able to complete the game without any major recurrent bug...the game might crash from time to time but it's been very rare in my experience... just save regularly as for most of adventure games to avoid starting back from the very beginning!!
Finally, I'd like to thank our great web space supplier Torsten (tteich)!
Greetings,
P. Barèges

ENJOY!

NOTES
-----
None of it would have been possible without these great guys (special mention to nogfx)
SCUMMAGA 0.38.2 by nogfx
BLAZEWCP BY Rick Pratt (OS3.1 CHUNKY PIXELS PATCH)
SYSTEMPATCH BY Sante Nocciolino (http://web.tiscali.it/ziosante) (OS3.0 CHUNKY PIXELS PATCH)
PTREPLAY BY Andreas Pålsson (MOD PLAYER)
PTMID BY Andrew Scott
GMPLAY SAMPLE BANK BY Christian Sauer/ Alessandro de Luca and Christian Buchner.
INSTALL
-------
- you first need to copy libs/ptreplay.library file to your system LIBS: directory
- OS 3.1+ USERS need to have BlazeWCP installed. if not, copy c/blazewcp to your system C: directory and in your System S:startup-sequence file add the line "C:BlazeWcp" just after the "setpatch quiet" line. reboot.
- OS 3.0 USERS need to have SYSTEMPATCH installed. if not copy c/systempatch to your system C: directory, libs/quicklayers.library to your system LIBS: directory, and in your System S:startup-sequence file add the line "C:SystemPatch" just after the "setpatch quiet" line. reboot
WARNING : SYSTEMPATCH VERSION INCLUDED IS DESIGNED FOR OS 3.0, DO NOT USE IT ON OS3.1+ systems.
- Copy game files (TENTACLE.EXE, TENTACLE_SFX.EXE, TENTACLE.000, TENTACLE.001, 1-102(ex. 2,15,26,40,41).MOD) to the game directory of your choice.
- Midi directory contains the original midi files extracted from tentacle.001
PLAY
----
-launch tentacle.exe (non sfx version) or tentacle_sfx (sfx version but still, priority is given to music when they conflict) from your game directory
-when playing adjust talk delay with +/- keys and game speed with Right Shift+G for normal mode (slower) and Right Shift+F to go back to fast mode
HISTORY
-------
Built based on SCUMMAGA 0.38.2 sources left by nogfx, updated by P. Barèges:
- FORCED FAST MODE
- FORCED TENTACLE game name
- CHANGED SOUNDENGINE TO MOD PLAYER
- CONVERTED DOTT GENERAL MIDI FILES AND SAMPLES TO MOD FILES USING PTMID and GMPLAY SAMPLE BANK.
TODO
----
- A TALENTED MUSICIAN IS REQUIRED TO IMPROVE MIDI FILES CONVERSION!